Hi friends! I'm super excited to be sharing this card with you today! It's featuring the Avery Elle Cupcake stamp set, which I love! I had a ton of fun playing around with this set before finally making a card! Do you ever do that? It's something I find myself doing more and more!
Anyways, to the card...
Can I just say how much I love having matching dies?!?! I do - it's amazing!
Okay friends, that's all for now! Thanks for stopping by and have a great day! XOXO!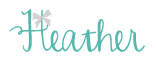 Supplies:
Avery Elle Clear Photopolymer Cupcake Stamp set, Kraft cardstock.